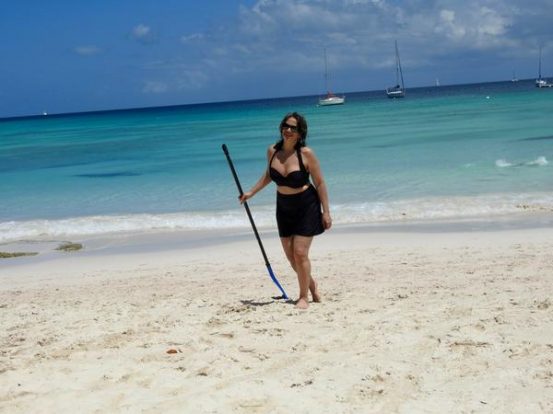 I'm 53 years old, and I've never worn a two piece bathing suit until this year.
What's that about?
Simply put….BODY SHAME!
I remember in my teens, I had a cute one piece bathing suit that had a ruffle across the chest.
I had chosen the suit specifically to hide my chest, which I was self-conscious about.
A boy I liked looked at me in my suit and crashed through my desire to hide my body with the brutally honest statement: "I don't know why you're trying to hide under that ruffle. We can still tell what's under there."
I was mortified. Someone – and in my mind, everyone – could see what I was desperately trying to hide.
I never wore shorts.
No bikinis for me.
Very few sleeveless shirts
All for fear that my body – which I deemed was unacceptable, would be seen.
My relationship with my body was based on one core belief:
It wasn't good enough.
And since it wasn't good enough, I had to improve it. I needed to diet, I needed to hide it. And even if I did manage to bring my body out of hiding, I was still riddled with self-consciousness and thoughts that I was being judged by others.
Unfortunately, I know that I was not alone with this shame based thinking.
I hear it every day – especially during bathing suit season.
I hear all the reasons why women won't go to the beach, or get into a bathing suit.
And really, I don't care whether you choose to wear a bikini, tankini, or swim dress. I'm more interested in what your conversation is about you getting into a bathing suit.
Because the whole bathing suit issue is a very powerful door to how you are talking to your body in general…how your overall relationship with your body is going.
So here are a few questions to shine a light on your body relationship.
You can skim over them and just get a feel for your responses, or take a few minutes and journal about them.
It's worth noticing this inner conversation because it opens up an opportunity for healing, and if you want to dive into it more deeply and work on any shame that comes up, let's talk.
When I think about bathing suit season, I feel…
If I were to walk down a beach in a bathing suit I would think…
The most common thing I say to my body is….
If I was wearing my swimming suit, my really dear and loving friend would say to me…
The bathing suit I wish I would wear – without changing anything in my body is… because it would make me feel free…
The way I want to feel in my bathing suit is…
One step to me feeling more at ease in my body would be…
What would be a kind and loving statement to my body?
Feel free to come on over and share your thoughts on my Nourished Woman Nation page (It's a  private group)
 ~ ~ ~ ~ ~
Nina Manolson, MA, CHC, certified Health Coach and Psychology of Eating Coach believes that every woman deserves to feel good in her own body. She helps women create a healthy and positive relationship with their food and body so they can love their body and life!  She's the founder of NinaManolson.com and NourishedWomanNation.com 
She helps busy women look and feel their best. She specializes in working with women over 40 who have tried other diets and approaches but are still struggling with their body and food. She helps women step into a new wellness paradigm that makes self-care real and do-able and turns it into sustainable healthy habits that
She's the author of "Feed Your Kids Well In A World That Doesn't: an everyday guide to make healthy food happen in your home and beyond". She's also the recipient of the prestigious Health Leadership Award from the Institute for Integrative Nutrition.
To get your F.R.E.E. Video Series "What to do now, when everything you've done hasn't worked" by mail and receive her healthy recipes and wellness tips click here.