Veggie Pate – gluten-free, dairy-free, vegan
My family and I have a yearly tradition of heading to the Laurentians (a lake and mountain region North of Montreal). And, as sometimes happens with rituals, we have some food traditions that go with it too.
We always go eat French Crepes, we always eat Montreal Bagels (they are completely different from any other bagel in the world), and we always eat vegetarian pate.
Now the crepes and the bagels, I'm happy to have as once a year food-traditions, but the vegetarian pate I always miss when we head home. For some reason, you just don't find vegetarian pate in the USA.
So, a while back I created my own version of Vegetarian Pate. And frankly, and not at all modestly, I think it's better!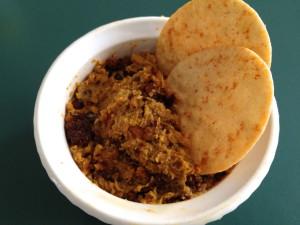 It's better for a few reasons:
It's fresher – food that's just been made from fresh veggies, and is not sitting in a package for months has more nutritional value.
It's wheat free – instead of wheat or spelt, I use quinoa flakes. Quinoa is packed with protein, and cooks up in an instant.
It's tastier – you can add your own favorite herbs to this recipe.
This recipe is so easy – I won't say it's beautiful, but roll it up in a romaine lettuce leaf with some tomato – and all you'll experience is it's taste (not it's looks).
As one of my friends has said: "You would never know from the title or the description just how great this pate really is."
Some kids love it, some don't, and on some days the kids that don't like it, do. Go figure!
Veggie Pate: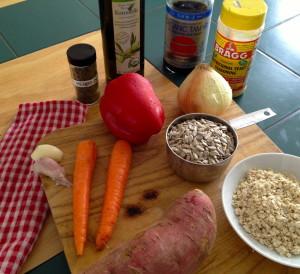 Ingredients:
1 cup raw sunflower seeds
1 medium size sweet potato – peeled and cut into chunks that your food processor can handle.
1/2 cup quinoa flakes (spelt flour or whole wheat flour work as well – but are not gluten-free)
1/2 water
2 carrots
1/2 cup olive oil
1/4 cup tamari (soy sauce)
1.5 teaspoon mixed dried herbs of your liking: I like Herbes de Provence (a french blend) but basil, sage and/or oregano work well too.
2 Tablespoon sesame seeds (optional – for topping)
Black Pepper (optional – for topping)
How to:
Blend all ingredient in food processor until thoroughly blended
Put in 2 oiled baking dishes. Pyrex 5 X 6 work well – but any size will work.
Sprinkle sesame seeds or black pepper on top.
Bake for 70 minutes at 350.
To check if it's ready, insert a knife, it should come out with a little pate stuck to the knife, but almost clean.
Here are a few more of our favorite summer meals and snacks:
Pizza Bagel
Chickpea of the Sea
Cucumber & Tomato Salad
Easy Asian Salad
Tomato & Jicama Salad
~ ~ ~ ~ ~
Nina Manolson, MA, CHC, certified Health Coach and Psychology of Eating Coach believes that every women deserves to feel good in their own body. She helps women create a healthy and positive relationship with their food and body so they can love their body and life!  She's the founder of NinaManolson.com and NourishedWomanNation.com 
She helps busy women look and feel their best, and helps them feed their kids well in a world that doesn't.
She's the author of "Feed Your Kids Well In A World That Doesn't: an everyday guide to make healthy food happen in your home and beyond". She's also the recipient of the prestigious Health Leadership Award from the Institute for Integrative Nutrition.
To get your F.R.E.E. Video Series "What to do now, when everything you've done hasn't worked" by mail and receive her healthy recipes and wellness tips click here.