QUIZ: How good at you at receiving?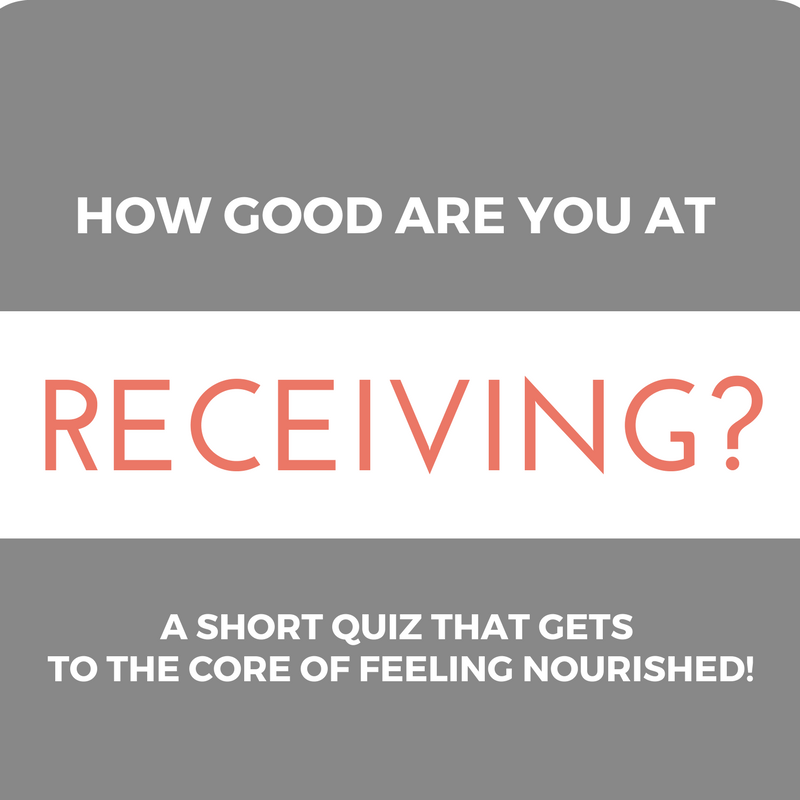 Take a moment for this quiz. It's worth it.
1. Do you find yourself saying any of the following statements…
Why am I the only one doing this?
Doesn't any one else notice the trash/dishes/paperwork etc.?
2. Emotionally do you ever feel…
unappreciated?
taken for granted?
unacknowledged?
resentful?
3. Physically do you ever feel…
exhausted?
depleted?
like you run out of gas?
4. Spiritually do you feel…
5. Do you find yourself thinking?
When is it going to be my turn?
What about me?
If you recognize yourself in the questions above, here's the deal – you have a receiving deficit!
And the problem with not receiving enough in your life is that it gets in the way of you feeling happy, fulfilled, vibrant and overall deeply nourished.
So, how do you strengthen your ability to receive?
1. Acknowledge your need.
This can be as simple as saying to yourself "WHAT ABOUT ME?" This statement is a powerful acknowledgment that you need and want to receive.
2. Receive Compliments
Pay special attention to any compliments that may be coming your way
Acknowledge them
Breath in the compliment
Deeply accepting compliments is like starting your weight training with 1lb weights. It lets you get accustomed to receiving more and more in different ways in your life.
Start with these small steps and you'll eventually be able to receive more in your life and feel more and more nourished!
 ~ ~ ~ ~ ~
Nina Manolson, MA, CHC, certified Health Coach and Psychology of Eating Coach believes that every woman deserves to feel good in her own body. She helps women create a healthy and positive relationship with their food and body so they can love their body and life!  She's the founder of NinaManolson.com and NourishedWomanNation.com 
She helps busy women look and feel their best. She specializes in working with women over 40 who have tried other diets and approaches but are still struggling with their body and food. She helps women step into a new wellness paradigm that makes self-care real and do-able and turns it into sustainable healthy habits that
She's the author of "Feed Your Kids Well In A World That Doesn't: an everyday guide to make healthy food happen in your home and beyond". She's also the recipient of the prestigious Health Leadership Award from the Institute for Integrative Nutrition.
To get your F.R.E.E. Video Series "What to do now, when everything you've done hasn't worked" by mail and receive her healthy recipes and wellness tips click here.