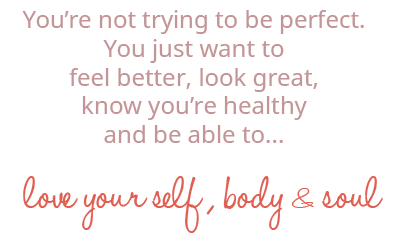 Is this you?
You're busy and you know what you "should" do to take care of yourself, but it's just not happening.
You're not trying to be perfect, you just want to feel better, look great, be healthy and love yourself fully – body and soul.
You want to "feel in control" when it comes to your food and weight. But really, on a deeper level, what you desire is to "feel in respect" with your body – meaning you want to be making choices that respect your body's need for true nourishment and self-care.
I can help you: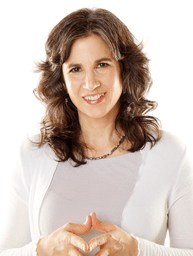 Stop the cycle of thinking "I'll start eating 'right' tomorrow" or "forget it, there's no hope for me."
Replace the "I shouldn't have eaten that" food war with a positive, healthy relationship with food.
Determine what foods truly make you radiant, so you can cut through the confusion of what's "good" to eat and what's not.
Create peace with yourself, so you can live in a body you love, and have more energy to live the life you truly want.
What's my passion?
I'm passionate about helping women end their food and body struggles because I was at war with my body and food for much of my life. I was always trying to lose the extra 15 to 25 pounds I carried. Food was my reward, my consolation prize…my response to any uncomfortable feeling. Diets always ensued. I tried every diet under the sun. Nothing worked until I stepped into the approach that I want to offer you.
What's my approach?
I've seen real, lasting change happen for my clients (and myself) by working on these three levels:
FOOD & BODY
We find the food that really makes you feel great (no dieting here). You learn how to listen to and respect your body – no willpower required.
PSYCHOLOGY & MINDSET
We explore the deeper issues and beliefs that drive you to reach for food when you're not hungry or eat food that you know isn't the wisest choice for your body.
PRACTICAL & REALISTIC
We create and implement systems so that healthy, vibrant living becomes a habit and easily fits into your busy life.
My clients often come to me because they feel defeated by diets and trying to be in control of their food and body. They no longer trust themselves when it comes to food. They're not comfortable or at ease in their body. They are fed up with struggling and are ready to reclaim their body, energy, and life. Does this sound like you?
How I can help you

reclaim your body?

I believe in four things:
There is no "right" body shape. By embracing your own brand of beauty, you can give your body the compassion, relaxation and permission it needs to shift into the shape that makes you feel radiant.
Your body is the book of your life. By learning to read your body's symptoms and messages, you will have access to your wisest teacher.
There is no one "right" way of eating. When you can recognize what foods make you feel most enlivened, you can step away from food rules (what you should and shouldn't eat) into food harmony (effortlessly choosing foods that make you feel energized, centered and happy).
You need support. All women do. I bet, like my clients and myself, that you expect a lot of yourself and are always giving and doing for others and leaving yourself at the bottom of your to-do list. If you can allow yourself to ask for and receive support, you can truly accomplish anything!
What qualifies me

to support you on your journey to feeling good in your body?

My professional credentials are supported by my personal journey and, more importantly, by my deep, unwavering commitment to helping women feel happy, confident, healthy and sexy in their bodies .
Masters Degree: Clinical Mental Health Counseling and Psychology – Lesley University
Certified Holistic Health Coach – Institute for Integrative Nutrition
Certified Psychology of Eating Coach and Teacher – Institute for the Psychology of Eating
Integrative Nutrition Health and Leadership Award recipient
Author of Feed Your Kids Well in a World That Doesn't: An everyday guide to making healthy food happen in your home and beyond.
Bodyworker, Bodywork Teacher and Yoga Teacher -Kripalu Center for Yoga and Health
Working with women and wellness for more than 20 years.
In case

you'd like to get a sense of me as a whole person…

I love food. I love to cook and eat. I love to dance and hike. I've practiced yoga for more than 40 years and am still amazed at how lessons learned on the yoga mat help me in life. I love being with women – especially in the kitchen, creating nourishing food together. I am married and have two kids. We live in the Boston area and enjoy a very full, real and whole-hearted life.

It would be my privilege to support you on your journey to feeling really good in your body.

Learn more about working with me individually here.