Cherry Clafoutis – gluten-free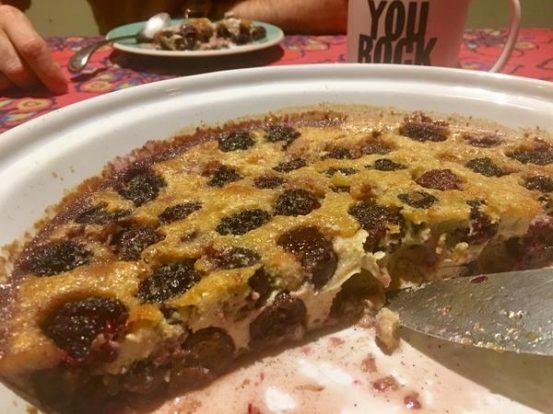 Before I share the recipe, I'd like to tell you the reasons I love this recipe so much…
It's DELICIOUS!
It tastes both deluxe and comforting!
It's not chocolate  (I love chocolate desserts, but they keep me up at night, so it's nice to have an alternative)
It's gluten-free
It's dairy-free (or make it with butter if you prefer to go with a bit of dairy for more richness)
It's protein-rich
It's pretty low glycemic (meaning it won't spike your blood sugar levels) due to the protein and healthy fats from the eggs and almond flour.
It's not overly sweet, but still sweet enough.
I make it with maple-syrup – to skip the highly-refined sugars (which make me feel jangly).
It's delicious served warm and also great the next day for breakfast or a snack!
The name itself is really cute (and my husband loves it), pronounced "cla-foo-ty"
Here's the complete recipe:
This recipe is based on Elana Amsterdam's Apple Clafoutis recipe from her book
The Gluten-Free Almond Flour Cookbook.
  I love her recipes, they are simple and delicious. I tweak them to suit my family's dietary likes and needs.
I decided to create a cherry Clafoutis because it's the first kind of clafoutis that I fell in love with when I had it in France. It was 1999, I was pregnant with my first child and I fell in love with the creamy, subtly sweet delicious cherry clafoutis.
VOILA!
INGREDIENTS:
4 cups of fruit: I use 3 cups of frozen cherry's (unsweetened) and 1 cup of fresh blackberries (you can get very creative here!)
4 eggs
1/4 cup maple syrup
1/2 cup coconut milk (I use Native Forest canned coconut milk because the cans are BPA free)
1/4 cup butter or coconut oil (it depends on your preference for dairy vs dairy-free)
2 tsp of vanilla extract (or 1 tsp of vanilla powder or scrap a whole vanilla pod for an amazing flavor!)
1/3 cup almond flour
1/2 teaspoon of ground cardamom
dash of sea salt
HOW TO:
Oven to 350
Grease pie plate with coconut oil or butter and dust with almond flour
Place fruit in pan
In blender mix: eggs, maple syrup, coconut milk, butter or coconut oil, vanilla
Add into blender: almond flour, salt, cardamom.
Blend
Pour the custard mixture onto the fruit
Bake for approximately 55 min – until the top is golden brown and the custard is set.
Let cool for 30 min.
It's delicious served warm, and also great at room temp.
I serve it with a drizzle of whipped canned coconut milk.
VARIATIONS:
FRUIT: You can use almost any other fruit in this recipe! I like cherry because the very first Clafoutis I ever had was in France and it was cherry – which is the classic way.  Elena Amsterdam makes hers with apple. I can imagine it would be delicious with raspberries!

SWEETENERS: If you want this to be even lower on the glycemic index (less blood sugar boost) I can imagine using rice-syrup. However, I would add a little extra, because rice syrup becomes less sweet when you bake it.

FLOUR: I haven't tried this with coconut flour. I think it would be kind of nice to have a nut free version, but be aware that coconut flour soaks up more moisture than other flours.
I'd love to hear about your variations!
ENJOY!
~ ~ ~ ~ ~
Nina Manolson, MA, NBC-HWC, board certified Health Coach and Psychology of Eating Coach believes that every woman deserves to feel good in her own body. She helps women create a healthy and positive relationship with their food and body so they can love their body and life!  She's the founder of NinaManolson.com and NourishedWomanNation.com 
She helps busy women look and feel their best. She specializes in working with women over 40 who have tried other diets and approaches but are still struggling with their body and food. She helps women step into a new wellness paradigm that makes self-care real and do-able and turns it into sustainable healthy habits that
She's the author of "Feed Your Kids Well In A World That Doesn't: an everyday guide to make healthy food happen in your home and beyond". She's also the recipient of the prestigious Health Leadership Award from the Institute for Integrative Nutrition.
To get your F.R.E.E. Video Series "What to do now, when everything you've done hasn't worked" by mail and receive her healthy recipes and wellness tips click here.