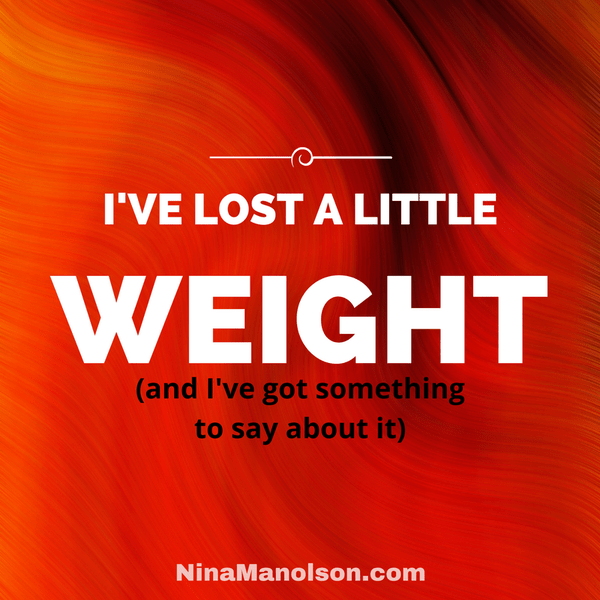 I'm losing weight:
by Nina Manolson
I'm losing weight.
And my mind is skipping ahead.
Does that mean that I can wear that slinky dress to the Wedding in August?
Does that mean that I'll be reunion ready?
My mind is running body-image tapes from years gone by
When being thin meant I was better
This year I stopped moving.
There have been several times in my life when I stopped moving
Because it hurt to move.
It hurt to move due to the surgical knife
The frozen shoulders
The weary nursing body.
The boundaries crossed.
Each time my body froze,
I allowed it the stillness and then slowly woke it again
With kindness, with compassion, with time.
And now, my body is in the defrost of the latest frostbite and I'm losing weight.
And my mind thinks I'm better – than I was.
It's just not true.
Frozen wasn't fun.
But the weight that I added to my body with each freeze
Did not, does not mean I'm less-than or unacceptable.
It means my body needed the protection
It means my body was calling for my attention.
It means my body is a woman's body.
Ever changing
Growing
Shrinking.
And me losing weight doesn't mean ….
Anything, really.
It means, my body is changing – again, as it will again.
Being thin isn't better – it's just a different size.
If you'd like to hear me read it, click here.
 ~ ~ ~ ~ ~
Nina Manolson, MA, CHC, certified Health Coach and Psychology of Eating Coach believes that every woman deserves to feel good in her own body. She helps women create a healthy and positive relationship with their food and body so they can love their body and life!  She's the founder of NinaManolson.com and NourishedWomanNation.com 
She helps busy women look and feel their best. She specializes in working with women over 40 who have tried other diets and approaches but are still struggling with their body and food. She helps women step into a new wellness paradigm that makes self-care real and do-able and turns it into sustainable healthy habits that
She's the author of "Feed Your Kids Well In A World That Doesn't: an everyday guide to make healthy food happen in your home and beyond". She's also the recipient of the prestigious Health Leadership Award from the Institute for Integrative Nutrition.
To get your F.R.E.E. Video Series "What to do now, when everything you've done hasn't worked" by mail and receive her healthy recipes and wellness tips click here.