My Makeup – Organic, gluten-free, vegan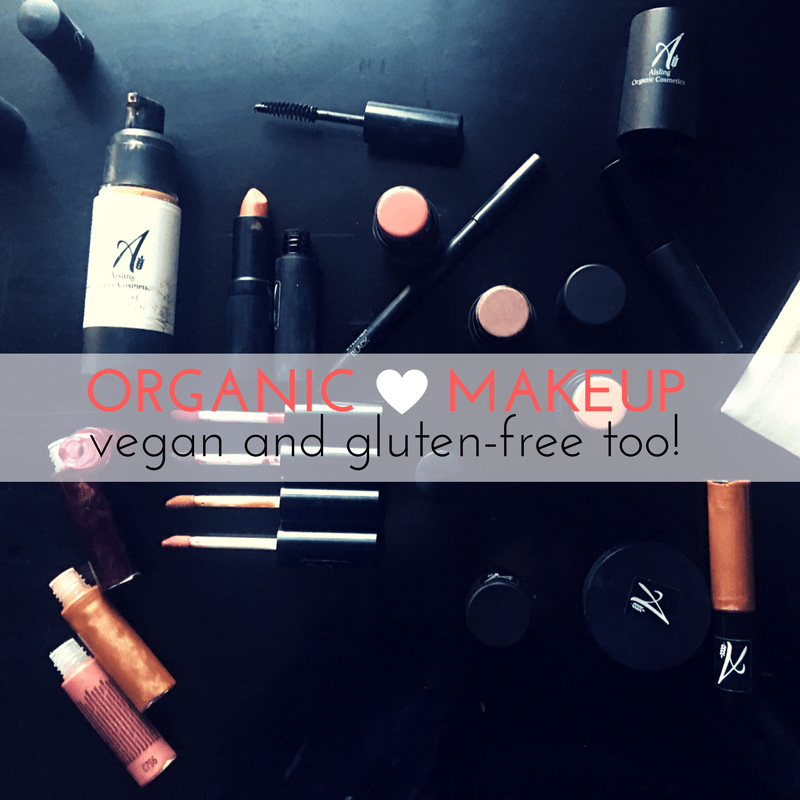 I met Krysta Lewis at a local new-age fair and what really captivated me about her (besides her awesome makeup) was her story and why she decided to create her own make up line.
It was self-preservation!
She was sick for 9 years. She tried everything to heal herself and  finally traced her malaise to the toxic makeup she was putting on her face daily.
What we put ON our skin is SO important!
When we put something on our skin we are feeding it to our cells.
So, just like you already know that what you eat matters, so does what you put on your face.
(Want to just jump to the makeup! Here's Krysta's website and be sure to use the code nina20 to get free shipping!)
There are some craaaazy scaaaary facts about the toxicity of most makeups on the market.
1. The average woman uses 12 beauty products per day, exposing herself to 126 unique chemicals; many of which are toxic and have been linked to cancer, infertility, birth defects, endocrine problems and hormone disruption.
2. Many of these chemicals have been banned in Europe…but they're still showing up in American products 🙁
3. Many companies proclaim that they are "all-natural," but there's no regulation of that term, and often a lot of chemicals are hidden in the terms "fragrance" and "perfume."
Ugh!
The good news is there's a wonderful alternative.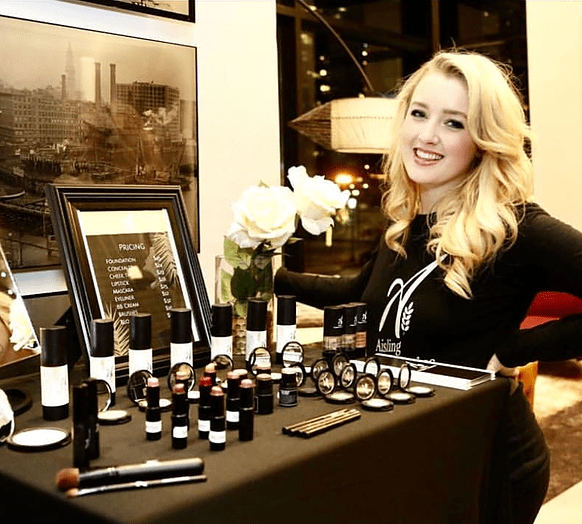 Krysta's Aisling Makeup Line is:
VEGAN (not animal tested)
GLUTEN-FREE (it's quite rare to find gluten-free makeup)
ORGANIC (why put chemicals on your face when you wouldn't put them in your mouth!)
And, it's NOT full of:
Parabens
Synthetic Fragrances
Phthalates
Heavy Metals
Harmful Fillers
Mineral Oils
Talc or Bismuth Oxy.
GMOs
I've been wearing Krysta's makeup and loving it. I introduced it to my friends. They love how it feels and of course how it looks.
My current personal favorite products are:
the Hibiscus lipstick – It looks good on everyone! It's the perfect everyday color.
the foundation  – It feels so lovely on my skin. It goes on smooth and even. I wear the color "cork" and I have a kind of olive skin tone.
the "blush" colored blush – again, super easy to apply and smooth. It's also a perfect everyday color.
lip gloss: For evening glam, I treated myself to the deep-purple (350) lip gloss.
My daughter got a lovely neutral color – pure-nude  for herself. (I think I may be borrowing it!)
I reached out to Krysta and asked her if I could offer you, my wonderful readers something special to make trying her makeup easy, and she graciously has offered us all free shipping!
Just use the code: nina20 and you'll receive free shipping on any order!
Be glam and stay healthy!
 ~ ~ ~ ~ ~
Nina Manolson, MA, CHC, certified Health Coach and Psychology of Eating Coach believes that every woman deserves to feel good in her own body. She helps women create a healthy and positive relationship with their food and body so they can love their body and life!  She's the founder of NinaManolson.com and NourishedWomanNation.com 
She helps busy women look and feel their best. She specializes in working with women over 40 who have tried other diets and approaches but are still struggling with their body and food. She helps women step into a new wellness paradigm that makes self-care real and do-able and turns it into sustainable healthy habits that
She's the author of "Feed Your Kids Well In A World That Doesn't: an everyday guide to make healthy food happen in your home and beyond". She's also the recipient of the prestigious Health Leadership Award from the Institute for Integrative Nutrition.
To get your F.R.E.E. Video Series "What to do now, when everything you've done hasn't worked" by mail and receive her healthy recipes and wellness tips click here.